Dog's Name: Harley
Age:
1.5-2 yrs
Breed:
Bluetick Hound
I am a:
Male, neutered
Weight:
65 lbs
Cat Friendly?
No
Special Notes:
No apartment style/condo/town house living. Must have a six foot fenced backyard. Applicant must exhibit they have done their research on hound traits and long term needs.
Adoption Fee:
$250.00
---
Harley wants to be your number one guy! He is a very chill dog that bonds tightly with his people, and has had his heart broken a couple times. Like many hounds, he is moderately vocal when he locates a squirrel in the backyard. He will serenade you at meal time by singing the song of his people and welcome you home with a loving bay!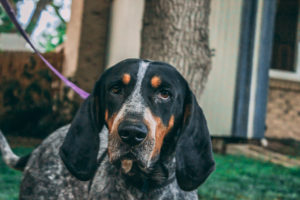 Because he is a typical hound, Harley lives with his nose to the ground. He is not a candidate for off-leash activity, because he will follow his nose as far as it takes him.
Harley is fully house-trained, with excellent manners, and he plays well with other dogs!
Will do well in a home with children that are respectful and kind!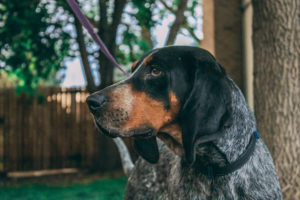 Blueticks have little to no health issues that plague many other dog breeds.