Dog's Name: Betty Roxy
Age:
3 years
Breed:
Labrador mix
I am a:
female, spayed
Weight:
30 pounds
Cat Friendly?
Yes
Special Notes:
She's a bit shy at first. No apartments or townhomes. Needs a yard. No kids under 10.
Adoption Fee:
$200.00
---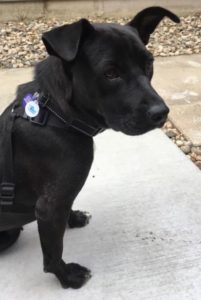 Hey friends, I'm Betty Roxy, the pup so nice they named me twice! I'm filled with affection and cuddles, but you'll need to give me just a little time before I let it show. After that its ear scratches and belly rubs all day. I'll need that same warm-up period with strangers, as they can make me a little nervous, but I'll be ready to make new friends in no time. Gender doesn't matter to me, but age is a bit of an unknown as I haven't been around tiny humans quite yet.  I'm a cautious gal, so hardwood floors, stairs, and doorways need to earn my trust as well. As long as I have the chance to figure things out, I'm good to go! Sudden or loud noises are a different story. Not a fan, but who is? Background noise like music or television is just fine though.
I come when I'm called, but still need to learn commands such as sit, lay down, and stay. Especially if you bring some of that sweet positive reinforcement to the table (preferably turkey slices) I'm more than willing to learn! I'm already a pro at playing fetch! There's no tennis ball on this earth that can escape me, and I'll bring it right back and drop it off for round 2, or 50, or 250. I love running around outside in the sunshine! Playing with other dogs  might be fun, but I haven't actually tried it yet, so that's an unknown.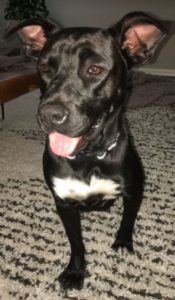 I do great when left alone whether it be in the kennel or out and about in the house. Destruction isn't my thing. I'm not into yelling out the window either. Why, when there's all of this relaxing and napping to be done, you know what I mean? It leaves me well rested for when you get home, my favorite time of day! I'll be ready for a walk around the neighborhood, and you don't have to worry about me pulling your arm out of its socket. If you want to take this adorable show on the road I'll need a little coaxing to get in the car, but I love to cruise once we get over that little hurdle.
I'm a sweet girl with simple needs  I love a relaxing atmosphere inside complete with cuddles, and space for naps. I dream of days burning energy out in the yard with my best friend. I mean you, not the tennis ball, but the ball is a real close second! Let's get this forever friendship started!
This bio was written by our friend and adopter John Bryan. John volunteers his time to help our dawgs find their furever homes.