Dog's Name: Max
Age:
3 yrs
Breed:
Redbone Hound
I am a:
Male
Weight:
55 pounds
Cat Friendly?
Yes
Special Notes:
Friendly toward cats. I will be neutered before I am adopted out!
Adoption Fee:
$0.00
---
ADOPTED 6/27/19! Congratulations Max!
My name is Max and I am a gentle sweetheart. I am from Oklahoma where someone found me on their door step hungry and tired. From there, I have been in a foster home until MFDM brought me to Colorado. I have settled in nicely, and I enjoy the comforts of a loving home – long naps on the couch and tasty treats that I take so carefully from my foster mom's hand. I'm a pretty mellow guy even though I'm 3 years old. I just like to take it all in. But I do like to play with other dogs and sniff around like crazy! I have a great sniffer that takes me where it pleases, so I must have a secured 6ft fenced in back yard and always on a leash when out and about. My furrever home will have a fun atmosphere with lots of walks, adventures and snuggles.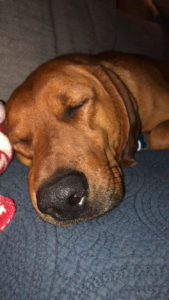 Personality characteristics:
Affectionate
Smart – sit, figured out dog door in one night
Behaviors:
No known reaction to daily things like floors stairs, vacuums
Have been crating when home alone until fully trusted to be left alone, but have 100% confidence he would be great
Have heard him bay once and it was loud, but only when he was triggered by my dog howling
Walks very well on leash. Clearly was owned by someone who trained him. No reaction to other dogs really yet.
Not destructive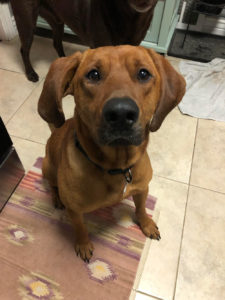 House trained
Children – TBD
Plays well w/ dogs
Doesn't understand car rides yet