Dog's Name: Berkely
Age:
5.5 yrs
Breed:
Black & Tan Hound
I am a:
Female, spayed
Weight:
80 pounds
Cat Friendly?
Yes
Special Notes:
Must be the only dog in her home. No children please. No apartment/condo/townhouse style living please.
Adoption Fee:
$175.00
---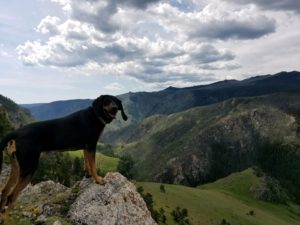 Adopted!! Congrats Berkeley!!
Berkeley is affectionate to strangers and open to visitors in her home. She adores men!  However, she is not overly cuddly and prefers to lay/sleep by herself. She does love her people though. She is moderately vocal and will howl for a short period of time after her people leave.
She loves to hike and be active, and she does well with other dogs outside of her home. In her own home, though, she must be an only dog.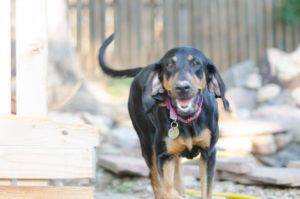 Berkely is trained off-leash, she is potty trained, and has excellent manners. She does not require a crate. Berkely cohabitates well with cats, but does not care for feline companions to get near her food or to bother her while she is sleeping.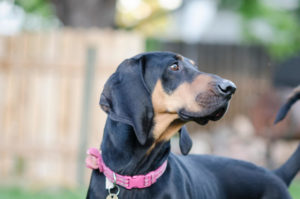 Her perfect home will not have any children. She will be the only dog. Her ideal family/person will work from home and/or take her everywhere. They will be an active human that hikes, runs, and bikes.